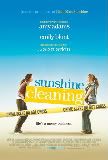 MPAA Rating:
R
for language, disturbing images, some sexuality and drug use.
Sunshine Cleaning is a movie involving two sisters and the troubles and misfortunes of their life, whether it be the death of their mother, or financial situations. Rose
Lorkowski
(Amy Adams) is a single mother in her thirties who cleans houses for a living. Wanting to send her trouble making young son Oscar to a private school, Rose decides to take her married lover's advice and get into the business of crime scene clean-up. She convinces her delusional sister Norah (Emily Blunt) to get into the business with her. They name the business "Sunshine Cleaning." They begin to find meaning in their business to "help" in some way in the aftermath of a death, just as the job stirs up memories of their own mother's suicide. Rose and Norah face hard challenges as they strive to improve their lives. The girls' father is played by Alan
Arkin
and his role is hysterical. Whenever there is an upsetting moment, he picks the film up with his quirky lines. This is a must-see movie that everyone will gain something from. It tells society to love the ones that are important to us because they can disappear just like that. 3 and a half out of 4 stars.