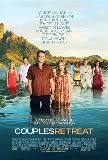 Couples Retreat is a comedy centered around four couples who go on vacation to

Bora Bora

. While one of the couples is there to work on marriage, the others fail to realize that participation in the

resort's

therapy sessions is not optional.
My Review: The comedy aspect of the film is light. It focuses more on the situations happening between the couples. The only reason I wanted to see it was because of Vince Vaughn and he didn't disappoint. Though it wasn't as funny as Four Christmases, Couples Retreat gives movie goers the treat of laughter in an unusual format. On a different note, the other actors in the movie were hysterical,
especially
Jon
Favreau
who played a sex crazed tough guy that was very
cynical
. Now, even though the writing could have been a lot better this film was made just for the fans and not the critics so audiences could escape into a semi-funny story that pleases most. 2 and a half out of 4 stars.