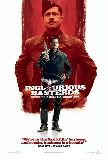 Inglourious
Basterds
begins in German-occupied France, where
Shosanna
witnesses the execution of her family at the hand of Nazi Colonel Hans
Landa
.
Shosanna
narrowly escapes and flees to Paris, where she starts a new life as the owner and operator of a cinema. Elsewhere in Europe, Lieutenant Aldo Raine (Brad Pitt) organizes a group of Jewish soldiers to engage in targeted acts of revenge. Known to their enemy as "The
Basterds
," Raine's squad joins German actress and undercover agent Bridget Von
Hammersmark
(Diane Kruger) on a mission to take down the leaders of The Third Reich. The film transitions so smoothly through the chapters that it is organized into. The story was utter brilliance with excellent direction and cinematography. The acting of Pitt was pure and authentic (and hilarious at times). There is little to say about "
Basterds
" that
hasn't
already been stated above. Serious Oscar consideration in screenplay, and acting for Brad Pitt, Christoph Waltz, and
Mélanie
Laurent. 4 out of 4 stars.