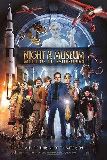 MPAA Rating:
PG
for mild action and brief language.
Larry (Ben Stiller) now owns Daley Devices, a manufacturing company. He finds that the Museum of Natural History is closed for upgrades and renovations, and the museum pieces are moving to the Federal Archives at the Smithsonian Institution. On the last night, Larry meets the museum pieces such as Theodore Roosevelt (Robin Williams),
Rexy
and Dexter the Monkey and finds out that several exhibits, including Teddy,
Rexy
, the Easter Island Head, and
Akmennrah
are not moving to The Smithsonian Institution - the other exhibits will no longer be animated. Larry then gets a call from Jedediah (Owen Wilson), saying that Dexter stole the tablet, and that
Kah
Mun Rah,
Akmenrah's
older brother, is attacking them. Larry takes a plane to Washington and visits the museums to find the Archives with the help of his son. This film was pure garbage. The only interesting aspect was the art and such. Ben stiller delivered a dry performance which I found to my liking. The writing was stupid and the direction was poorly delivered. At times toward the end, I found myself squirming in my uncomforatble seat, waiting for it to be over. 1 and a half out of 4 stars. Sorry, Ben...better luck next time.