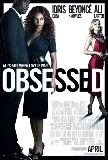 MPAA Rating:
PG-13
for sexual material including some suggestive dialogue, some violence and thematic content.
This movie is really funny. Funny in the sense that it was so damn awful. Sharon (
Beyonce
) and her husband move into an ideal home with their infant son. When Derek, her husband goes to work one morning he finds that he has a "temp". This seductive temptress goes to all lengths to try to make herself believe that she is with this man. The acting was terrible as well as the plot. It was way too predictable. If t weren't for the two women fighting at the end, I would have thought it was the worst movie I have ever seen. The fight between the two caught my eye and made it entertaining. It was drawn out and included some incredibly stupid moments that just led up to all of the action. Overall, I would see this purely for the fighting scene at the end. If you don't want to see two beautiful women go at it, this
definitely
isn't something you would want to see. 1 and a half out of 4 stars.